How California Wildfires Affect Air Quality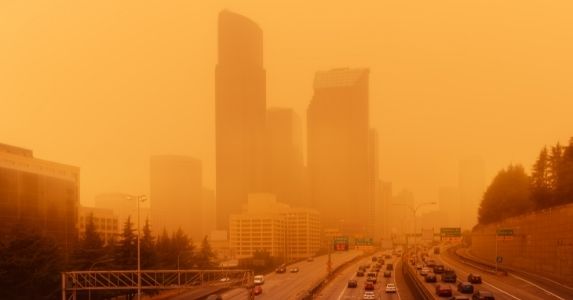 Posted by
Jasmine Sherren
August 24, 2021
Between August and October 2020, 5 of the 20 largest wildfires in California history burned throughout the state, with the August Complex Fire on the California-Oregon border becoming California's largest wildfire in its history, which burned over 1 million acres. In July 2021, the Dixie Fire became the second largest fire in the state's history, burning over 600,000 acres. These wildfires are not only destructive to natural landscapes, communities, and ecosystems, but they also have a negative impact on human health. Large wildfires generate excessive smoke that spreads thousands of miles away, even causing poor air quality across the country.
Particulate matter (PM) present in wildfire smoke can lodge deep in the lung airways due to its elevated concentration of ultrafine particles (PM2.5). High levels of PM2.5 causes damaging effects on the lungs, cardiovascular, and neurological health. Wildfire smoke is toxic to breathe and may be especially hazardous to children, the elderly, pregnant women, and anyone with heart or lung problems. Although there are methods to combat the public health impacts of air pollution from California's wildfires, there are several persisting challenges.
Wildfire Smoke Impacts Respiratory Health More Than Other Air Pollution Sources
New research by Nature Communications was conducted in Southern California, where the Santa Ana winds carry wildfire smoke and other contaminants across heavily populated regions. They discovered that during periods when the region was blanketed in wildfire smoke, hospital admissions for respiratory issues increased by 10%. Hospital admissions climbed by less than 1% during periods when pollution levels were similar from other sources.
Wildfire Smoke Can Travel Thousands of Miles
Smoke from wildfires can travel thousands of miles, impacting air quality and posing respiratory health risks far from the source of the fire. Smoke trapped at lower altitudes is much less likely to travel more than a few hundred miles. On the other hand, satellite data tracking the movement and spread of smoke detects that wildfire smoke travels thousands of miles at a very high altitude, eventually reaching distant cities and mixing with other air pollutants to create higher ozone levels far from the fire source.
Ozone pollution is a serious health concern, especially in metropolitan areas. In healthy individuals, breathing ozone can cause a range of unpleasant health consequences, such as coughing, throat irritation, and congestion. Ozone can also aggravate the symptoms of bronchitis, emphysema, asthma, and COVID-19.
Staying Protected from Wildfire Smoke and Poor Air Quality
Unfortunately, wildfires are predicted to become more frequent and severe over most of the United States in the coming years. As a result, you should be prepared to take certain safety measures if wildfire smoke starts to affect your city's air quality. Some precautions you can take include:
Protect the air quality in your home - Wildfire smoke may quickly fill your house with smoke particles and chemicals. Close all windows and doors. Keep the fresh-air inlet closed if you're using an air conditioner. Smoke particles of various sizes can be removed from interior air using a high-performance air purifier designed for smoke.
Stay indoors as much as possible - When wildfire smoke is present, staying indoors is often the best choice. This is especially true for those who have respiratory or cardiovascular illness, the elderly, or children.
Wear a mask when outdoors - A paper dust mask or a surgical mask will not be enough to prevent you from breathing particles. To assist protect against smoke particles, pick a respirator mask with an N95 certification.
Don't underestimate the dangers of poor air quality from nearby or distant wildfires. It's more important than ever to know what to do if wildfires affect the air quality where you live.
Triumvirate's experts can help organizations ensure OSHA compliance for air quality. Click below to contact our team.