5 Benefits of an All-Inclusive EHS Management Program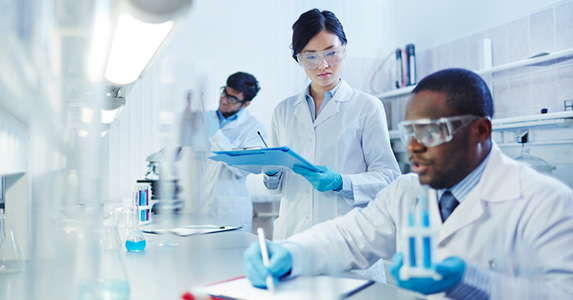 Depending on your industry, your EHS department may require regulatory compliance, lab management, hazardous waste disposal, EHS compliance training, facility maintenance, program writing, and more—all while carrying out important business to achieve your company's goals. With so many areas of focus, it's easy to end up juggling numerous vendors and multiple contracts to keep your EHS department up and running, which ultimately takes your focus away from what matters most to your business. To solve this, we recommend outsourcing your EHS program to an EHS partner who is able to provide all-inclusive EHS management services, like EHSOne®, that combines regulatory compliance management, onsite hazardous material management, and operational support. Here are five ways a single, comprehensive EHS management program can benefit your organization.
1. A Dedicated EHS Team Lead
Having one dedicated person to oversee your EHS team can help streamline communication while identifying potential gaps in compliance or operational processes before they become a serious issue. As an EHSOne® member, your operation will have an EHSOne® Lead to act as a point-person. They will facilitate and support a unified team of diverse EHS professionals including EHS compliance specialists, lab managers, regulated waste disposal experts, and other site-specific professionals who can anticipate your unique needs and challenges. Your EHSOne® Lead can ensure that all EHS services are being completed accurately and efficiently so your operations are compliant, safe, and running smoothly—no more scrambling to prepare for an upcoming EHS audit.
2. Accessible EHS Compliance Tools
Maintaining compliance with multiple federal, state, and local regulatory agencies can be complicated, especially when your EHS department is comprised of multiple vendors. A unified EHS management team that runs your entire program helps to ensure all organization's specific compliance regulations, documents, and training requirements are understood by and accessible to the company. One component of Triumvirate Environmental's EHSOne® program is developing an EHS Playbook for your company. The EHS Playbook includes all executive governance documents with their respective regulatory dates, requirements, and status reports to help understand key organizational structure to help build sustainable, long-term EHS compliance tools. For example, your EHS team will develop a detailed Compliance Calendar to ensure timely permit management and regulatory reporting submissions as well as a comprehensive regulatory training matrix tailored specifically to your organization.
3. Client-Specific Work Plans
EHS programs have key differences based on industry, nature of research, site limitations, and the scope of operations, among other factors. An EHS management program is most successful when the key stakeholders understand your organization's specific needs, challenges, and site logistics—your team should anticipate challenges before they arise as well as react without hesitation to manage hazardous materials, spills, or other unexpected emergencies. An all-inclusive EHS program that is embedded on your site can get to know your organization's priorities, ensure accountability within your department, and help you work towards your company's goals.
4. Cutting-Edge EHS Software
Efficiency comes in many forms. We recommend utilizing software within your EHS program where possible, especially for EHS compliance and training, as opposed to outsourcing to multiple vendors. Software can increase organization, efficiency, and increase compliance when set up well. EHS software tools that are available to your organization through Triumvirate Environmental's EHSOne® program include ADVISE for waste disposal and management, custom on-demand trainings for all your EHS training needs, and chemical inventory management software to improve or implement an organizational structure for your chemical inventory. Your EHS team will provide initial and as-needed continuous support throughout the implementation and continued administration of software.
5. EHS Safety
A single comprehensive EHS management program team, like EHSOne®, provides unmatched onsite support staff to support overflowing priorities and ongoing maintenance that keeps EHS safety in mind. No matter what industry your organization's work is based in, safety among your staff, key stakeholders, research, and facility is of utmost importance. A unified team with decades of EHS experience ensures your operation keeps safety at the forefront while supporting your goals and initiatives.
To learn more about Triumvirate Environmental's comprehensive and all-inclusive approach to EHS management, EHSOne®, click below or call 866-601-2076 to speak to a Triumvirate expert about your specific organization's EHS program needs.