Is Fall Protection Your Safety Weak Spot?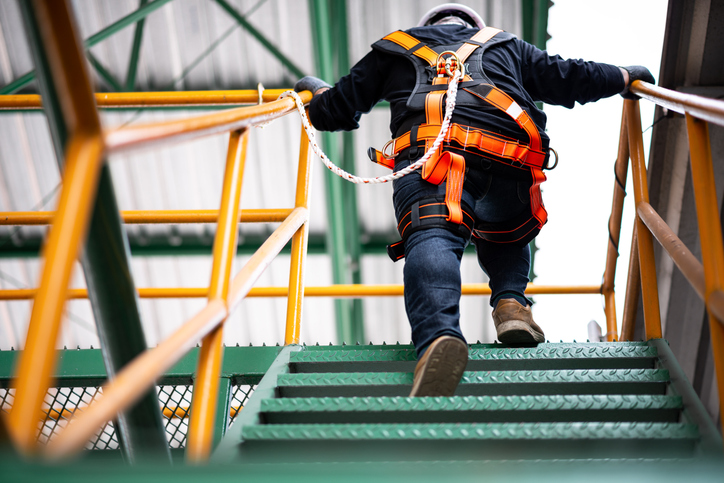 For the twelfth year in a row, Fall Protection – General Requirements (standard 1926.501) topped last year's Occupational Safety and Health Administration (OSHA) list of most frequently violated standards, with 5,980 citations being issued. Employers have, once again, failed to protect their employees from avoidable falls—all while exposing their organization to financial, compliance, and safety risks.
Violations can result in fines of up to $15,625 per infraction—but far worse, fall accidents can sometimes prove fatal for workers. Protect your employees and your bottom line by learning how to stay compliant and avoid violations.
Falls Are Dangerous—Fall Protection Is Paramount
According to OSHA, falls are among the leading cause of serious work-related injuries and death. In 2020, 351 fatal falls occurred—about 35% of fatal accidents that year. In 2021, 850 work-related fatalities occurred due to slips, trips, and falls. These falls may be due to lack of training, improper use of fall protection equipment, lack of fall arrest systems, ineffective equipment, and more.
Recently, OSHA has been aggressively combatting workplace dangers by doing such things as expanding the guidelines for their Severe Violator Enforcement Program (SVEP). Nevertheless, the amount of fall protection violations has risen 12.9% since 2021, when there were 5,295 violations.
Ensuring employee safety is paramount to saving money, lives, organizational morale, and public image. Over time, workers and customers will prefer to work with a company that has their best interests in mind—including relevant fall protection policies.
Workplace Fall Protection Regulations
Employees face many fall hazards in their workplace. Whenever a worker is exposed to a fall threat—be it from they themselves falling or from materials falling onto them—OSHA mandates that all the appropriate fall prevention techniques are used.
To protect worker lives, OSHA regulates worksite compliance and safety precautions to prevent falls occurring from heights or on the same level. The general regulations also safeguard workers from falling objects. The verbiage of the Fall Protection – General Requirements standard requires employers have fall protection systems in place, including protected edges, strength and integrity in working surfaces, acknowledgement of holes, and more.
Below are the most crucial aspects of this standard that can serve as a starting point for fall protection compliance:
Unprotected Sides and Edges (standard 1926.501(b)(1))

According to OSHA, "Each employee on a walking/working surface (horizontal and vertical surface) with an unprotected side or edge which is 6 feet or more above a lower level shall be protected from falling by the use of guardrail systems, safety net systems, or personal fall arrest systems."

Practically, this means that there should be no unprotected edges on a work site from which a worker can fall, and fall protection systems must be in place to help prevent falls from these edges—protected or otherwise. At a minimum, elevated floors, runways, and platforms should have toeboards and guardrails. Workers may be required to wear harnesses, lifelines, or use anchorage as personal fall protection systems to protect themselves from falls from elevated surfaces.

Holes (standard 1926.501(b)(4))

From OSHA: "Each employee on walking/working surfaces shall be protected from falling through holes (including skylights) more than 6 feet above lower levels, by personal fall arrest systems, covers, or guardrail systems erected around such holes."

In practice, this is very similar to the "Unprotected Sides and Edges" standard section. A hole, in this case, is defined as any gap larger than 2 inches wide on any working surface. Where holes are present, especially on elevated surfaces, guardrails and/or toeboards should be in place and workers should use personal protection systems to prevent tripping, walking, or falling into them.

For holes, however, workers can also be protected via the use of hole covers. Hole covers should be able to support at least double the weight of any workers, equipment, or material that may rest upon them at any given time. Covers also need to be marked to indicate they cover a hole and must be securely fastened—a piece of plywood thrown on top of a gap simply would not do the trick.

Protection from Falling Objects (standard 1960.501(c))

OSHA states: "When an employee is exposed to falling objects, the employer shall have each employee wear a hard hat and shall implement [safety] measures."

The two standard sections above deal with precautions to prevent workers from falling—this section deals with ways to prevent injury to workers from falling objects. Some of the concepts are similar, however—toeboards and guardrails should be in place to prevent objects from falling from above. Objects should also always be placed away from edges and barricades should be used to prevent employees from entering areas where items may fall from aloft.
Prevent Employee Falls
Luckily, all falls—including injurious or fatal ones—are preventable. The mitigation strategies discussed above are a great start for ensuring overall operational safety—but mitigation starts with identification of fall protection safety lapses in your workplace and proper employee training. If you are an operations or safety manager, read on for a few tips to stay compliant and avoid worker injury.
Review worksites:

It is important to do a thorough review of your worksites to determine if any unprotected edges, holes, etc. are present. This is especially important if any construction is occurring at your site. Any time a fall risk is identified, make sure to assess the fall protection systems in place for that location. For instance, are all holes covered? Is a guardrail in place along edges? Are workers required to wear harnesses in fall hazard locations? Consider every possible outcome—if safety lapses exist, shut down the location until the issue is remedied, appropriately and compliantly.

Invest in training

:

Even if you have fall protection systems in place, poor training may result in workers ignoring these precautions. Emphasize the role and importance of trainings to your workers—don't let them begin work until appropriate training is completed. Regularly remind contractors of these regulations as well, in order to create a safety culture and ensure every person that steps foot in your facility is protected.

Enforce the rules

: This is arguably the most important aspect of successful fall protection—enforcing the rules. Don't allow any exceptions to the regulations, as this could result in slack in all aspects of work in the facility. Be present on site to confirm that rules are being followed, and stress the consequences of straying from guidelines. It only takes one instance, a split-second, to determine the fate of a worker should fall hazards exist.
The team at Triumvirate Environmental has the experience to ensure your operations stay safe. We can help you help your employees—and make sure you stay compliant while avoiding fines. Interested in learning more and improving the safety of your worksite? Contact us today.