Methods to Ensure Biosafety During Lab Migration or Expansion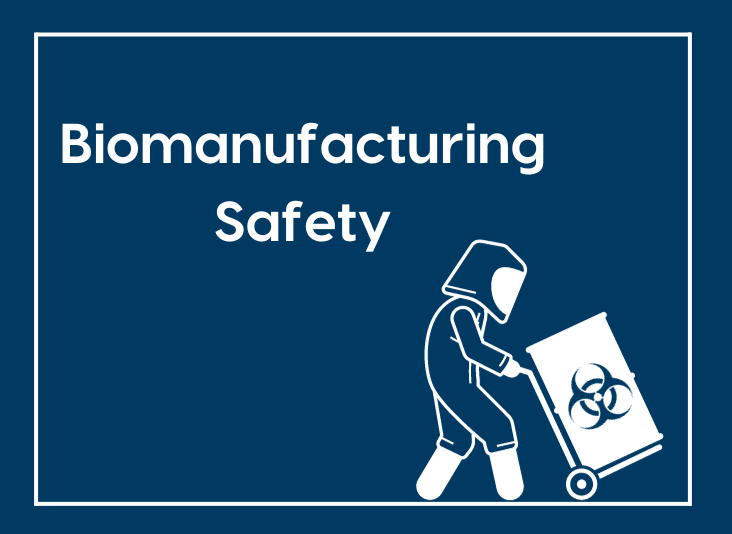 Growing biomanufacturers all face a major challenge: As they ramp up from R&D to production, or as they move to a larger space, they must still maintain safety and compliance. New, larger facilities offer different safety challenges than smaller, differently poised ones—and because workplace safety is crucial for employee wellbeing, smooth operations, and to avoid costly penalties, it is critical that managers tackle these safety obstacles head-on as their organization grows and evolves.
These complexities will not be easy to overcome. Obviously, the greater the scale and speed of growth, the harder it is to extend and expand the existing environmental, health, and safety (EHS) programs—and it can be a challenge to keep up with the many safety needs in a larger manufacturing space. It is part of the industry's lifecycle for every successful biomanufacturer and cannot be ignored.
Unfortunately, organizations often attempt to replicate the same EHS protocols they used to use in their smaller space. This routinely results in noncompliance and leaves staff and the larger community at risk of injury. What works in a smaller facility usually is inadequate in a larger, more complex facility.
Accordingly for laboratory managers in growth mode, it's a priority to make provisions to ensure comprehensive employee and workplace safety.
Workplace Safety Is a Critical Requirement
It's impossible to overstate the case for adherence to EHS workplace best practices and regulations. Annually, there are some 340 million workplace accidents—almost half of which result in illness or injury. This need applies especially in a biomanufacturing work environment, where the very nature of the work can be especially threatening.
In 2021, there were 5,190 workplace fatal injuries—marking a nearly 9% increase from 2020. On top of this, the Occupational Safety and Health Administration (OSHA) reports hundreds of thousands of safety violations annually. A single infraction of one of these safety standards can result in fines of up to $15,625 per day.
Biomanufacturing: Unique EHS Challenges
Safety risks are especially serious for biomanufacturers given their reliance on hazardous material handling on a daily basis. When improperly handled, chemicals and other substances can easily harm workers—and even the public at large.
Even in small biomanufacturing operations there are abundant dangers. Among the threatening substances are toxins, bacteria, and viruses—all of which are commonplace in biomanufacturing work environments.
Contact with these can make any worker, lacking proper personal protective equipment (PPE), severely ill. In any lab lacking proper contamination safeguards, these substances can spread quickly from their immediate workspace—and even potentially impact the entire facility. Should there be an accident with a biohazardous agent, the lack of an emergency response protocol can lead to disaster for laboratory personnel and the surrounding communities.
Biosafety Growth Risks
The risks only grow when biomanufacturing organizations expand in existing spaces or migrate to larger facilities. What is adequate to protect a small operation won't apply on an enterprise scale. Larger biomanufacturing workspaces require more complex safety accommodations and plans which must scale up to fit the new facilities and workflows—a migration can even demand a complete overhaul of existing safety plans and protocols.
Many managers are baffled by the safety challenges that arise when making the transition, especially when they want to avoid taxing existing resources. Fortunately, there are four best practices that can be easily and swiftly applied to make the transition as safe as possible.
One: Scale Comparison
When moving to a new, larger facility, managers must compare layout and capacity of the new space to the existing lab environment. A bigger scale means new demands caused by expanded operations and worksites. Increased personnel, chemical volumes, and expanded operational capacity must be considered. This scale comparison can include:
A risk assessment: At both the research scale and the manufacturing scale, a risk assessment should consider:

Research needs: Accommodations need to be made for basic engineering controls or research tools. Larger machines with greater capacity may be needed to process an increased number of samples or projects—and this may change safety requirements.
Manufacturing needs: Moving to a larger manufacturing facility means rethinking existing safety protocols surrounding facility design and layout. Additionally, newer, larger reactors may require more sophisticated tools and thus, extra consideration than was previously needed.

Application of biosafety best practices: Increased processing volumes or new or expanded manufacturing operations may mean there are more hazardous materials on-site. Managers must understand how these will impact workflows—and when these potentially greater quantities and concentrations demand new EHS processes. The migration may require additional PPE or additional safety precautions when handing these materials.
Chemical hygiene and safety review: Organizations scaling up will be storing and using greater amounts of chemicals. These chemicals may be hazardous on their own or when combined—and potential risk increases as chemical volume grows. For increased safety, managers should review at a minimum:

How on-site chemicals react with one another—and at scale
All associated physical risks of any chemical
Where chemicals will be used in confined spaces
Heating and pumping pressures throughout the facility
If and where compressed gasses will be part of the operation

Process safety overhaul: Larger facilities and expanded or accelerated operations may require process change. Scaling, at any magnitude, requires a thorough analysis of workflows, from start to finish, to ensure complete safety.
Two: Facility Redesign and Augmented Waste Programs
Larger scale operations in a new, bigger facility will generate new and larger waste streams—up from a bench scale. As such, managers must accordingly craft new waste management and disposal tactics. This requires the review and analysis of:
All waste a facility handles and ways to optimize the facility's layout to reduce waste management risks.
All potential interactions of various on-site chemicals, reviewed within the context of avoiding dangerous combination creation among any of them, in any quantity.
Local and federal regulations for all waste materials to maintain total compliance. Increased compliance usually results in improved safety.
Decontamination processes, as needed for safe waste disposal, at the appropriate frequency depending on the type and quantity of waste, which are as follows:


Thermal decontamination, which can include steam or probe processes.
Chemical decontamination, which may include bleach or continuous/batch processing.
Validation decontamination, a viable option which relies on a commercial spore-based test OR agent- and site-specific validation to manage waste. This type of decontamination is mainly used with biological indicators (BIs), but local, state, and federal requirements overseeing this technology may differ.
Facility design. This will need to be maximized for safety, especially in larger facilities with bigger operations. This can involve secondary containment methods, including:


Floor and wall coving or doorway bumps
Built-in or temporary berming in case of spills
Devices, such as fume hoods or bioreactors, whether single-use or sterilize-in-place, in areas where chemical or biological products may contaminate samples or injure researchers

This may also include venting, which can help prevent airborne hazards, with the following provisions:


Depending on the venting equipment and local regulations, it may be necessary to have more than one exhaust method
Venting should be designed to maximize air pressure cascading, an intelligent facility solution that relies on air pressure to move gasses from room to room and ultimately to corral dangerous fumes into one location for venting

Anticipated process monitoring plans. Process monitoring can track critical parameters like temperature, pH, call density, and more to endure limits are not reached and processes are occurring successfully and safely. Probes can be reusable or single-use and should be sterilized with steam before use. They should be regularly maintained and replaced if needed, with removal after disinfection. All of this should be reviewed when planning process monitoring systems.
Three: Close Review of Permitting Requirements
At a bench scale, municipal permitting alone will likely be adequate for all lab, wastewater, and other permits. At a manufacturing scale, requirements change considerably. They may include:
Pre-treatment permits alongside the wastewater permit
Broader scale biosafety/rDNA permits
Special hazardous materials permits, as applicable
Four: Crafting an Emergency Response Program
Every organization does its best to avoid accidents—but it's almost inevitable that even in the best run facilities, something will go wrong in some way. At a bench scale, a typical emergency response will only require employees, not necessarily highly trained for the task, to handle the problem. Provided they wear PPE, they can usually clean up a spill or other incidental or emergency accident without issue.
At a manufacturing scale, almost every accident is an emergency because the larger scale presents a greater threat. Some internal clean up can occur, if facility staff are trained in Hazardous Waste Operations and Emergency Response (HAZWOPER), respiratory protection, and facility-specific procedures. The bulk of remediation, however, will require emergency response personnel or a qualified external EHS vendor who is equipped to handle these such situations.
Partner for Biomanufacturing Safety Success
Safety requirements for organizations moving into a new biomanufacturing space or enlarging an existing one are extensive. Many organizations rely on vendor support in managing the steps for safe migration.
To learn more, view our on-demand "Lab Safety in Biomanufacturing" webinar.
With EHS Consulting capabilities, wastewater operations management, and on-site support, Triumvirate Environmental may just be the partner you need for success. Don't wait—contact us today to learn how we can help you stay safe and compliant—without interruption to your operations.