Considering an EHS Partner? Look at Its Workforce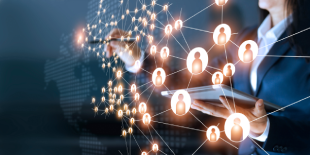 A successful environmental, health, and safety (EHS) partnership will improve your operations and drive down known liability. Overall, it will also save time and money by keeping your people in a safe working environment. But have you thought about how it's also a way to secure decades' worth of industry knowledge, regulatory compliance, and insights?
If you're weighing an EHS partnership, or choosing among candidates, you should closely examine the value of the full-time employee—and then compare it to that of a vendor's experienced and capable internal network. The right partner's teams will have gathered insights from the biggest and best organizations in your field—and know best how to nurture and support an industry program.
The candidate's network and their knowledge should be a key factor in your decision. I've seen repeatedly how a quality EHS workforce itself is a true asset for a variety of companies in various industries.
Experience Eases Safety Burden
The EHS field is complex and demands unceasing education and attention, with new hazards arriving daily. Successful compliance requires the ability to stay current with changes in the various industries affected (and their related regulations).
Most likely, your EHS staff/management can only devote a small percentage of their week to compliance or waste removal safety and training—and this limits their impact. They are focusing on employees moving, changing designs, and offering ad-hoc project support to keep your organization's engine running.
Now imagine a full-time partner dedicated to improving your internal staff and processes: The potential for success is vastly greater. But opening your organization to obtain support to your overburdened safety team is just part of the collaboration's value.
The right EHS partner workforce will have access to libraries containing years of knowledge—about standards, procedures, and solutions that enable companies to succeed in compliance and efficiency improvement. In the long term, such lessons, learned from others, can benefit YOU, as well.
Benefits of a Partner's Workforce
Beyond helping you reach the baseline (but key) EHS performance indicators, you must also rationalize other, longer-term benefits. Behind the on-site professional is the full partner network: That's the real X-factor to drive change. The vendor team provides the client with the abilities to adjust to complex or unforeseen situations—and find the best management practices, within the often ambiguous and complex regulations.
A company looking to mature should view the creation of a deep safety culture partnership as an exciting chance. For instance, a capable partner's team managers and staff members will provide:
New ideas and approaches

: A third party on site means innovative, fresh, relevant ideas and insights are at your fingertips. Additionally, original approaches and ideas can be an impetus to address unexpected shifts in your market. These collaboration professionals potentially can solve problems that internal staffers find themselves unable to overcome.

Best management practices (BMPs):

The partner will have deep experience and understand how industry best practices and protocols will improve your organization. They know what works—as well as what doesn't—and will be initiative-taking in guiding you with BMPs, and providing the resources, advice, and personnel for your current—and future—challenges.

Unique proven, reliable, and sustainable solutions

: The team will bring proven proprietary approaches, processes, and technologies they've deployed previously. The managers will have worked repeatedly in similar organizations as yours—and possibly even personally developed or customized these programs in the top companies in your industry. Securing these professionals means you will benefit from the absolutely best exclusive insights and approaches.

Compliance proficiency

: State, federal, and local EHS guidelines and rules are extensive, complicated, and constantly evolving. Sometimes organizations must make changes at virtually a moment's notice. Maintaining compliance is a full-time job—and that is why taking on a partner with proven proficiency is key. The team will understand the regulations—and how to pivot an organization or department as quickly and pain-free as possible, adding to your safety culture.

Access to top ambassadors

: A partner with decades in safety will be capable of fielding the top industry ambassadors available. These advisors will provide, collectively, hundreds of years of insights into solving EHS conundrums. They will be in the best position to efficiently address a unique problem (or event) that might baffle your internal staff.

Preparation for the unknown

! As we mentioned above, you may suddenly face an unforeseen event that your internal staff is unprepared for. Reactive responses are unfortunately normal in the EHS industry. However, the more you prepare for the unknowns, the better chance there is of lowering the impact these events cause. In these cases, you can turn to a team whose people have encountered these situations already. Professional insight on-tap will mean quicker responses—and for the future, the proactive prevention of such events.
Top collaboration, communication, and standard operating procedures: Experienced professionals will know how to best support your employees. They'll understand how to leverage all interactions with your entire team for the best and most collaborative results. They'll be seasoned professionals who can create SOPs. They will train your employees in regulatory guidance—and post-training, they'll continue to provide clear communications, both to staff and management, as they are working in their various departments and roles.
Finding the Right Safety Culture Partner
Do you want to access the best partner resources available in the industry? We'll cover the steps to do this in-depth in a future blog, but, obviously, it involves performing due diligence (for starters, by checking off the above items). You must verify a candidate offers the highest quality people, and that it provides scalability and stability, and so on.
And if, currently, you are considering a partnership, I'd like to mention that with Triumvirate Environmental's EHSOne® program, you have access to a wealth of on-site operational and industry knowledge. We offer considerable brain, muscle, and sophisticated regulatory and compliance expertise. On average:
Our directors offer 23-plus years of experience.

Our managers offer 15-plus years of experience.

Our delivery team members offer 2- to 5-plus years of experience, and receive close mentoring and support from the managers and directors—so you stay within budget, but continue to align support with the needs of your growing business.
From chemical hygiene and hazardous communications to electrical safety and confined spaces, our team has the industry knowledge to support comprehensive safety programs. Our clients have access to staff members who are professionals, highly knowledgeable in their disciplines. They carry specific academic and industry credentials, certifications, and degrees. Don't take our word for it—here are some testimonials and case studies for your review.
Ready to discuss your needs? Talk to us today.