5 Steps to Take Before Relocating Your Lab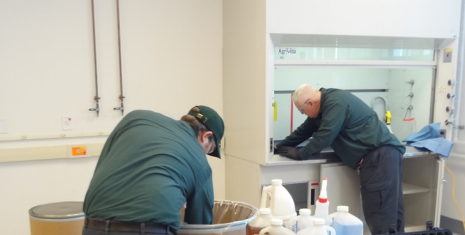 Rapidly evolving biotech, pharmaceutical, and research companies and departments require constant organizational changes and facility resizing. This is often achieved through entering into strategic leases and moving into different spaces that are appropriately sized.
Though entering into new leases and moving facilities is a common strategy to continue growth and align with changing organizational goals, it comes at a price. Facility moves and new leases are accompanied by increased liabilities and risks, which can become very expensive and threaten business continuity. Through proper planning and partnering, you can limit the risks and costs associated with your facility move.
1. Inventory Your Material
Before relocating your laboratory, make sure you take inventory of all the hazardous and non-hazardous material within the lab. An in-depth inventory analysis will ensure you're aware of the volume of material, and the risks associated with the material, well before the move occurs.
Understanding the volume of material, as well as its inherent risks and liabilities, allows you to accurately assess equipment and labor needs. An analysis of your inventory will also help determine what type of movers you'll need to ensure you maintain compliance and safety throughout the move. Only qualified, trained, and certified packers and movers should be handling hazardous materials throughout the move.
Inventorying all material will also lead you to the second step you need to take before relocating a lab.
2. Separate and Dispose of Materials You Can Discard
After determining the extent of your material inventory, you can then work to make the inventory leaner, safer, and more cost effective to move. In some cases, the cost and risk of moving certain material is actually greater than the cost of disposing it and restocking it once the new lab is established.
Properly disposing of non-essential material before the move will result in a safer, more efficient relocation experience. Thoroughly investigating the costs and risks associated with moving materials and disposing of the materials that are too costly or risky to move will prove to be an invaluable use of resources.
Mitigating as many risks as possible throughout the move will help ensure your relocation is conducted smoothly.
3. Build a Relocation Project Team
A project team should be developed for every lab move and it should consist of both internal and external members. Building a team you can rely on will ensure that the proper planning, permitting, and documentation is complete for the move. You'll also want to have a team that is experienced in lab relocations and familiar with all regulatory factors.
Developing a partnership with best-in-class environmental professionals and commercial movers will provide you with the expertise and equipment necessary to efficiently and compliantly relocate a lab. This team is going to be the catalyst for a successful laboratory relocation, so be sure you have the best people for the job by your side.
4. Develop a Project Plan
After the project team is built, you can begin working on a comprehensive plan for the entire relocation process. The plan should encompass all aspects of the move, from routine meetings during which team members discuss progress, to budget allocation, timelines, reporting metrics, and expectations. Utilizing project management programs and tools, like Gantt charts, will help team members visualize and keep track of the essential steps of the project plan.
In addition to the plan, ensure that everyone on the team is knowledgeable of all the lease terms.
5. Prepare for Surprises
Even with the perfect team and the most comprehensive of plans, you must still be agile and capable of adapting to surprises along the way. Order changes, equipment availability, and even the weather can throw the relocation off schedule. Constant communication, detailed plans, and flexibility will allow the team to remain on track despite the surprises and challenges you encounter.
In order to best prepare for surprises, make sure you have a thorough understanding of your lease terms -- for both the facility you are leaving and the new space you are moving into. In addition to comprehensive knowledge of the lease, be certain you maintain clear communication with the property management companies involved to ensure a smooth move out and move in.
Lab relocation is a part of doing business in biotech, pharmaceutical, healthcare, and education industries. Whether you are expanding into a new space, renovating, moving operations, consolidating laboratories, or decommissioning a facility, laboratory cleanout and relocation can be complicated and costly.
If you need assistance with your lab relocation project, please click the button below to request a consultation with one of our specialists. Our team of experts is here to guide you through the process, identify risks, propose solutions, and help you complete your project quickly, safely, and cost effectively.