6 Ways EHSOne Can Support Your Operation's Regulatory Compliance, Waste Disposal, and Material Management Needs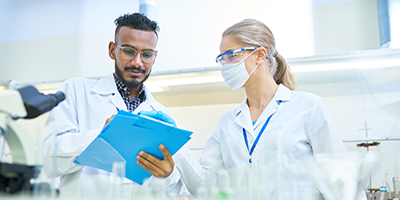 EHSOne® is a unique professional services program that is designed to address your organization's full spectrum of environmental, health, and safety needs. Our EHS professionals keep compliance at the forefront of your operation while safely disposing of your hazardous materials, handling lab waste, developing site-specific EHS programs, and everything in between. Through the EHSOne® program, your company will benefit from having a team of EHS industry experts embedded at your site to anticipate your needs and offer on-the-spot solutions to any problems that arise. Working with multiple vendors to handle each aspect of your EHS management program can be costly and frustrating. EHSOne® eliminates the hassle by providing a one-partner driven EHS solution designed to adapt to your organization's unique needs and growth. Below are six ways EHSOne® can support your facility's regulatory compliance, waste disposal, and material management needs.
Regulatory Compliance
It can be a challenge to stay on top of countless regulatory deadlines, reporting and permitting requirements, day to day inspections, incident management, and overall management of the EHS program structure, especially when you are juggling many other business priorities. EHS managers are usually unique individuals who 'wear many hats' and play a vital role in their company's success. Our professional services staff provide high-level program management so you can focus on achieving your company's goals. Our EHS team of industry experts will customize a client-by-client work plan that will drive management solutions tailored to your company, making it easier to organize, access, and produce important compliance-related documents for overall management of the EHS program. Triumvirate can develop and implement your written programs start-to-finish or simply review your documents to provide additional perspective. Our professional services staff works hand-in-hand with our materials management team to deliver key compliance improvements for your organization.
Regulated Waste Disposal
Waste disposal has complex requirements due to the changing priority of needs for sustainable and compliant solutions. These solutions can take time, research, and management options for each program, but we are here to take it off your hands. Through EHSOne®, our regulated waste disposal experts will simplify and streamline hazardous, non-hazardous, universal, and biological waste options for disposal. With flexible pickup times and the ability to transport all regulated wastes, you can be sure your facility's waste will be compliantly handled in the most efficient and sustainable way possible. Implementing more sustainable options for disposal, such as waste-to-energy and biological waste disposal opportunities, could turn the entire biological waste output into a sustainable solution for your company's Waste Minimization Plan. Let us work with you to reduce waste disposal costs, save time, build sustainable solutions, and ensure waste compliance.
Material Management
To ensure lab safety and regulatory compliance, you need to accurately track and manage everything from chemicals coming into the labs, to management of onsite processes, to the regulated waste materials produced on an ongoing basis. Our professional services staff manage the regulated hazardous materials from waste generation to accumulation, removal, transportation, and disposal, while tracking it along the way. Additionally, we will assess, develop, and improve the chemical inventory system to ensure it is organized, affordable, and sustainable to meet regulatory compliance. Triumvirate has provided complete material management for over 30 years, so you can trust our specialists to solve your facility's unique challenges. Our material management team works together with our regulatory compliance team to create multiple options for collaborative compliance solutions.
Training
In facilities where hazardous materials are handled or where hazards are present, the organization is required to provide safety training to employees; however, we know that no training program is perfect. EHS professionals will need a helping hand to meet their ever-changing needs. It can be hard to keep track of which employees fall under which required compliance program, when trainings expire, and how to make sure the training courses and content are effective. Our experienced professional services staff offer broad regulatory training and customized training content that fits your company's needs. Whether you are looking for specific courses led by an industry expert or a comprehensive learning management system that is developed and implemented entirely by our team, we can support all your training needs. Adequate training will ensure your company is adhering to all federal, state, county, and local regulations for all EHS industry requirements.
Plans and Procedures
Do you know how to manage chemicals ordered to your site? Where are the exit routes at each of your buildings? Do you have procedures in place to avoid slips, trips, falls, and overall incident management? A well-designed EHS plan helps answer all these questions and more to help your organization avoid compliance violations, fines, environmental releases, permit delays, injuries, and unplanned costs. Our professional services teams will develop, update, or revise safe, compliant plans and programs designed for the safety and health of your employees at your facility. Our EHS plan and procedures capabilities include Emergency Action, Chemical Hygiene, Hazard Communication, Exposure Control, Confined Space, Injury and Illness Prevention Program, Hazardous Materials Business Plan, and much more.
Facility Services Projects
With EHSOne®, your facility will have our EHS professional services team embedded at your site to anticipate your changing needs, react to any unforeseen issues, and help manage difficult or unique projects. With extensive training and years of hands-on experience, our team is highly qualified to solve even the most complex EHS project needs that arise. Many of these services are offered on a routine basis to keep each facility running smoothly and meeting the demands of the ever-changing scientific environment. Whether it is cleaning or removing tanks, cleaning or certification of fume hoods and biological safety cabinets, lab relocation or decommissioning, wastewater, and remediation services, there is no job too big or too small for this well diversified team.
For companies needing more onsite professional services support with their EHS program, or need help to start an EHS program, EHSOne® can help save time, ensure compliance, and keep your facility and employees safe. We are invested in your success! Click below to learn more about EHSOne® or call us at 617-715-9055 for more information.