Building a Compliant EH&S Department on a Budget
Establishing an environmental, health, and safety group within your organization ensures that your aim is to research, discover, produce, learn, and operate safely and compliantly. Developing a compliant EH&S department, however, is no easy task. Doing so on a tight budget is even more difficult – but that doesn't mean it is unachievable. Follow these five high-level steps to get your EH&S department started without breaking the bank.
Step One: Find something to aspire to.
Find a company with a strong EH&S department that you can look to for industry best-practices. Keep an eye out for innovative ways to engage researchers and safety personnel, ideas for immediate tweaks that you can make to improve programs at your facility, and structural changes that you might consider down the line to further the success of your program.
If you have a bit of money to allot toward accessing industry best practices and peer advice, you might attend a local conference, training, or networking event. Try to find upcoming events that sync up with any forecasted lulls in EH&S needs throughout the year. If workflow slows its pace in February, then seek out conferences or workshops that are available in your area during that month.
Step Two: Perform a gap analysis of compliance and safety at your facility.
In order to determine what actions you need to take to bring your facility to full compliance, you need to first build a clear picture of where your facility stands today. This will also allow you to fix any immediate issues with noncompliance, fortifying you against potential fines that could occur with any impending regulatory inspection. You can indirectly save yourself thousands of dollars by auditing your facility as well as your EH&S department's programs and records.
Whereas members of your EH&S department are too close to problems and issues to think of a solution (or even recognize the problem in the first place), compliance advisors seek out and solve similar issues every day – and at facilities in the same industry as yours. Find an experienced EH&S auditor that will offer you a complimentary consultation, giving you an unbiased, objective picture of where you stand.
Step Three: Leverage technology.
Your time is valuable. Don't perform menial tasks, like three-hole punching training records to be added to an ever-growing binder, filling out chemical inventory spreadsheets, or filing away another TSDF-signed-manifest in a cabinet drawer. With a lower budget to spend, you will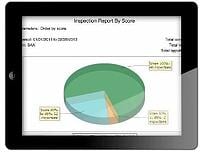 need to increase your efficiency with the time that you have. If you do not have an EH&S data management software system, then you should consider looking into one. Not only does an electronic system save you the time that may currently be spent on manual data entry and filing, but it also allows you the ability to filter and analyze your data. No longer do you have to rely primarily on scrolling through records or walking through labs to pinpoint compliance issues. You can use inspection tools to capture instances of noncompliance on a mobile phone that then sends this data for follow-up. With today's EH&S software, you don't have to rely on labels to stay on top of SAA and MAA date limits, or set reminders in your Outlook calendar for permit renewals. Utilize an EH&S-specific software system that tracks this information for you, and sends you alerts as deadlines approach. Streamlining data that is currently being tracked by hand and paper will make for a more productive culture, where data can be pulled and sliced with a few clicks of your mouse.
Step Four: Partner with trusted vendors.
Due to limited resources, you should pre-determine how you would react in a situation where demand for EH&S services supersedes your supply. What happens if a catch-basin, oil-water separator, wastewater tank, and elevator pit all need to be cleaned within the span of a month, but your facilities personnel do not have the time to do so? Or, say you need to expand a lab due to an abundance of mid-year added researchers, but you're not equipped with the team to accommodate this lab move (make sure you do these five things before a lab move) to the floor above? You will need a deeper pool of resources. Third-party vendors can be helpful because they are available when you are not, and they have the resources that you may not. Additionally, while your internal team may transition from one month or year to the next, you do not need to worry about internal turnover with an outside team.
Vet out a list of vendors who can ensure compliance with federal, state, and local regulations, who have experience within your industry, and who are on-call for whatever and whenever a need might arise on your end. Organize vendors into service offerings, and have contact information for a point person at each company on-hand.
Step Five: Make continuous learning a proactive behavior.
Never sit back and be satisfied with the status quo. Instead, make a concerted effort to learn how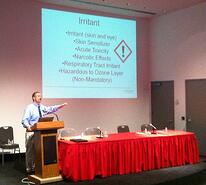 you can improve your role in the EH&S department, as well as help others to learn, too. Be a sponge.Stay on top of best practices and technical knowledge that your peers can share with you. Networking events, trainings, webinars, and free informational events can help you to stay at the cutting edge of new regulatory requirements and industry updates.
Challenge the way that you did things yesterday – always. Progress is impossible without change, and, in an industry where regulatory requirements are constantly evolving, compliance can be, too. Set Google alerts for any updates with EPA, OSHA, IATA, and/or DOT regulations.
Maintaining safety and compliance in EH&S operations is imperative to ensure that your organization is able to pursue its mission. It is also imperative to understand that EH&S does not have to be a burdensome line item, and that safety and compliance can be achieved on a budget. To get started, take advantage of a free consultation - one of our EH&S advisors will be happy to discuss your current situation.