An EH&S Compliance Guide for the Busy Executive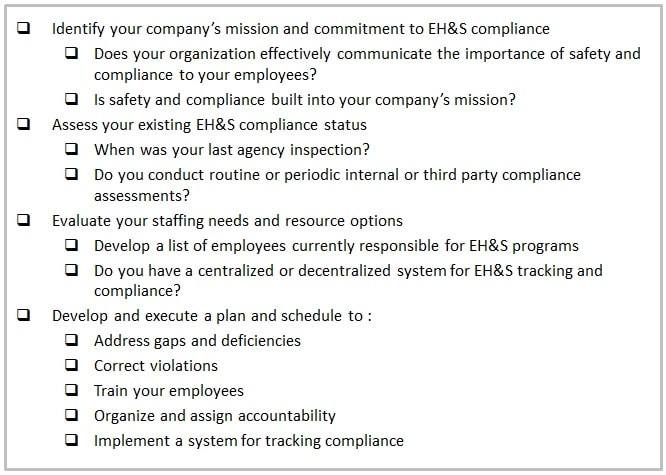 Besides the bottom line, what keeps you up at night? Do you worry about the safety of your employees? Are you uncertain about passing a state or federal agency inspection? Will a compliance violation seriously hinder company growth and reputation?
It's ok if these risks worry you – as a business leader, they should. Executives at small to medium businesses are concerned about their environmental, health, and safety liability; however, it can sometimes be discounted due to their drive to pursue their mission and operate as a profitable organization. The following problems are commonly overlooked by the busy executive, and can result in compliance issues detrimental to company success. (Luckily, we provide a checklist a little further down to ensure they don't hinder your organization.)
1. Insufficient Employee Training
Insufficient, or lack of, employee training is the largest deficiency in EH&S programs. Employee training is neglected for a number of reasons, including; unawareness of applicable training requirements, time constraints, cost associated with the administration of training programs, and lack of management support. If you follow the state or EPA press releases of enforcement cases, you'll notice that nearly 100% include penalties associated with lack of employee training. Do not overlook employee training!
2. Unorganized Records and Files; and Inability to Produce Reports and Logs During Inspections
When agency inspectors show up, the length of time and depth of their inspection will largely depend upon their perception of the company's commitment to compliance, which is demonstrated largely through your organization of reports, records, logs, permits, written programs, and employee training records.
3. Hazardous Waste Management Violations
The biggest area of EH&S vulnerability is the onsite management of hazardous waste as it is being generated, accumulated, stored, labeled, and shipped. It takes commitment, diligence, and constant follow-up to ensure that every container is labeled properly, there is adequate secondary containment, hazardous chemicals are handled properly, and the contingency plan is up to date.
4. Lack of Written Programs and Plans
Sometimes you just don't know what you don't know. New laws and regulations, or revisions to existing regulations, can pop up and go unnoticed. It may not be apparent that the new laws or revisions are applicable to your facility or operations, either. This can lead to the absence of written programs or plans when they are necessary.
5. Compliance Questions Cannot be Answered
If an inspector asks questions and you cannot answer them, it is likely that they will continue digging to uncover compliance issues. Inability to answer questions, or lack of organization and accountability around compliance issues is sure to raise red flags during agency interviews. This almost always results in enforcement action, fines, penalties and bad press.
Checklist for Mitigating EH&S Risks
Now that we've established common EH&S compliance challenges that executives and directors face, it's time to discover how to overcome the challenges for EH&S and business success. The following checklist provides the steps necessary to ensure that EH&S excellence is engrained into company culture, and that compliance and safety is a top priority for the organization. (Feel free to save or print the checklist, or just bookmark the post for future reference)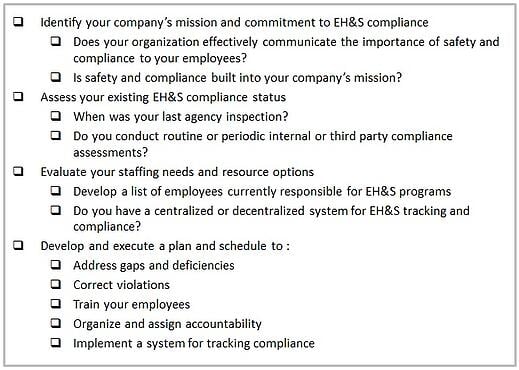 It's really a simple list, but does require commitment and follow through in order to develop a culture that motivates employee behavior and teamwork in support of worker safety and environmental compliance.