Biological Safety Cabinet Decontamination: 6 Key Components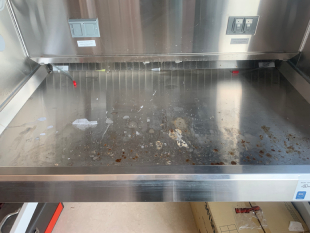 Biological safety cabinets are indispensable for research—and their clean operation is essential for experiment integrity.
Properly maintained biological safety cabinets (BSCs), with good laboratory practices, provide an effective containment system for safe manipulation of moderate- and high-risk infectious agents (biosafety level 2 (BSL-2) and biosafety level 3 (BSL-3) agents).
The BSCs prevent contamination from harming products and research, laboratory workers, and the immediate lab environment. There are strict controls over this gear. All BSCs must be certified when installed; whenever they are moved; and thereafter, at least once annually (29 CFR 1910.1030(e)(2) (iii)(B)). Additionally, if it's critical to maintain an elevated level of cleanliness (or the cabinet has a heavy workload), there are more mandated certifications.
Lifecycle of BSC Filters
Typically, BSC filters can function adequately from two-to-10 years, unless there is unusually heavy use. But even during routine BSC operations, bacteria, mold, viruses, and other contaminants build up in filters. Regular cleaning of the BSC can handle many potential contaminants, as this blog has previously noted.
However, to protect experimental integrity, some circumstances will require a complete gas decontamination. For the annual BSC certification requirement, you should retain a dependable third-party service provider—one that is also adept at cabinet troubleshooting, repairs, and decontamination.
If you go with a service provider, you must be sure it fulfills all the necessary requirements. Errors in decontamination and certification are potentially disastrous: Contamination can disrupt your lab operations and cause excessive equipment downtime.
Mistakes also can invalidate your experimental results, and risk workplace safety and compliance. Therefore, it's crucial that your BSC partner observes best practices when decontaminating, including the use of NSF standard protocols.
BSC Decontamination Basics
We'll run through the components of the decontamination service and how each element is important to ensure your BSC is working properly. Be sure that your contractor provides these as part of its certifiable decontamination services:
Qualified Technicians

: The personnel on-site should include fully NSF-certified technicians with the requisite training. The team members must be formally trained by the decontamination equipment manufacturer to follow the corresponding standard operating procedure (

take a look at our previous blog

, covering SOP NO. D15-CDBSC Chlorine Dioxide Decontamination of Biological Safety Cabinets).

A questionnaire protocol

: Before beginning the procedure, the primary user must complete a questionnaire to document the various applications the BSC has supported. The questionnaire must also list the manufacturer, model, and, where applicable, the hazardous materials used within the unit.

Routine investigation of the materials

: Sound preparation for this key process is essential to ensure decontamination success. Cutting corners risks failure. So, the experts must take time to identify and understand the materials used inside your BSC. This is a key method to ensure the decontamination method will be effective. This will save time later in the process, and enable you to get back to innovating and being productive faster.

Surfaces cleaning

: The cleansing process must cover both the interior and exterior of your cabinet. So, during the initial examination, the technician will ensure that the BSC is free of obvious superficial chemical stains or biological material. Only when this task is complete should the technician move to the BSC's full decontamination.

Thorough chlorine dioxide decontamination

: Deployment of chlorine dioxide gas is the preferred method for BSC decontamination. The gas facilitates full disinfection of surfaces, including the high-efficiency particulate absorbing (HEPA) filter. During the process, a technician uses a generator to introduce the gas into the BSC and contact all its surfaces. It's easy to generate the gas, which is highly effective at eliminating the microbiological contaminants that typically reside in the BSC—including those living in its hard to-reach spaces.

Biological tools (as needed)

: Upon request, the vendor may utilize biological indicators to confirm successful and complete disinfection. Each BSC decontamination involves documentation—the requisite forms will include a decontamination certificate that is affixed to the BSC. It will record the date of service; the name of the contractor; the cabinet's make, model, and serial number; and a breakdown of the services performed.
At Triumvirate Environmental, we understand the importance of BSCs in powering innovation. We know scheduled BSC decontaminations can minimize downtime and the potential for R&D disruption. We offer certification, routine decontamination, maintenance, repairs, and filter change-outs for all BSC types. See how we exceed competitors: Read more about our services.
Contact our EHS team today to discuss how we can address your BSC needs.