Breathe Easy Over Respiratory Safety Compliance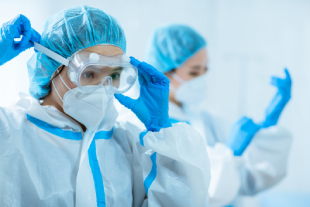 As an employer, it's crucial you address an area many organizations are failing at: respiratory safety compliance. During the past several years, it has been a top source of violations.
In fact, for fiscal year 2022, respiratory protection noncompliance was number three in the list of the top 10 violations (2,185) of the 29 CFR 1910.134 standard from the federal Occupational Safety and Health Administration (OSHA). For OSHA fiscal year 2021, the respiratory violation category took the the number two slot (2,527 violations). Clearly, OSHA is maintaining (or even increasing) its scrutiny of respiratory protection programs.
Multiple factors likely brought respiratory protection into OSHA's spotlight (as this blog has noted, OSHA has had requirements in place for years). Most likely, the major driver was the arrival of COVID-19—and a difficult situation became worse through the subsequent supply chain hiccups that made it challenging to distribute workplace respiratory safety gear. But whatever the underlying causes, OSHA sees it is a major area for environmental, health, and safety compliance—and we all should, too.
Your workers need to breathe easy—and if they do, you will also. You'll avoid endangering employees, harming operations, or violating OSHA regulations. What that in mind, we'll do a general review of the official respiratory safety requirements below.
Respiratory Gear Basics
For starters, there are a variety of respirators, and they offer two types of protection, as EHS Daily Advisory points out. There are filtering facepiece respirators (FFRs), like N95s and P100s—these strain particles such as the SARS-CoV-2 virus (which causes COVID-19) and particulate matter (like the residue found in wildfire smoke).
Other types of respirators supply clean, breathable air—such as airline gear that pumps in compressed air from a remote source. The different respirators provide assorted services—N95 respirators can strain out 95% of airborne particles—but they aren't oil-resistant. Also, supplied air respirators are cumbersome and limit the amount of time you have to conduct your work.
Checking Respiratory Protection Noncompliance
Now, we'll briefly review the OSHA requirements; for an in-depth examination of the rules, you can visit OSHA's website. You can start compliance with 29 CFR 1910.134 by considering the following:
Employees must be fit-tested (more on that here) and, if they pass, they must undergo a professional medical evaluation (29 CFR 1910.134(e)(1)). Only one medical evaluation is needed—prior to initial fit testing and the use of the respiratory gear in your workplace. However, employees may need an additional medical evaluation if they show signs or symptoms indicating there are issues with the use of their assigned respirators. Note that a fit test is an annual requirement.
The voluntary use of a dust mask does not require medical evaluation or fit test—but it does require training.

Your respiratory program documentation should explain how and when you evaluate employees and maintain records. The records should show there was an evaluation prior to the fit test and initial respirator use. You should also include an explainer about how the company makes voluntary respiratory use determinations.

After your employees are tested—and have a basic understanding

of OSHA guidance before deployment

, they'll be ready for real-world experience. After initial gear use, you must fit test the employees whenever they adopt different face pieces (which vary in size, model, make), as well as at annual intervals (29 CFR 1910.134(f)(2)).

Your initial medical evaluation should be officially dated prior to the first fit test. Also, you must keep documentation that the employee has passed the annual fit test on that particular model of the manufacturer's respirator.

Companies deploying respirators to protect employee health must also create a corresponding written protection program (29 CFR 1910.134(c)(1). This program document must offer detailed procedures for that site—and you must update the verbiage to reflect any changes to the workplace's conditions.

Remember: E

ven a simple written program is fine if it is compliant and effective. Everyone affected by the policy should be capable of understanding the protocols for respirator use. Also, you must regularly review these policies and update them to reflect changes to tasks or working conditions. For instance, if you add engineering controls to a workplace, and respiratory controls are unnecessary, you must update your program, as well.
Long-Term Respiratory OSHA Compliance
Respiratory compliance is crucial for workplace safety and OSHA compliance. At Triumvirate Environmental, we believe in a comprehensive approach that embraces this—and all phases of environmental, health, and safety operations. This includes training, waste disposal, sustainability and more. Questions about how we can help? Talk to us today.