Incubator, Cold Room, and Biological Safety Cabinet Contamination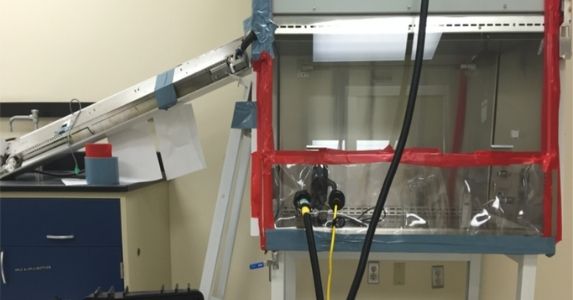 Preventing and remediating contamination in incubators, cold rooms, and biological safety cabinets allows your organization to run a smoother operation, reduce equipment downtime, and create a safe, environmentally compliant, and healthy facility. Keep reading to learn how contamination in these places occurs, and how to remediate the situation and decontaminate the area when biological cleaning is necessary.
Incubators
Keeping incubators free from debris buildup is vital to lab equipment safety. Debris in fans, leading to build up on sensors and gaskets, can cause contamination within an incubator. A bigger problem arises when basic surface cleaning and gas disinfection does not remove the build up, leading to contaminated laboratory equipment.
Incubator Decontamination
Procedure is make and model specific
Follow methods recommended by manufacturer
Manufacturer provides replacement parts kit (filters, gaskets, plugs, etc.)
Clean and/or replace removed parts including:

Shelves
Shelf supports
Plugs & grommets
Ducts
Humidity pan
Gaskets
Filters
Fans
Cold Rooms
Cardboard and other porous materials left in cold rooms, as well as condensation, can lead to mold growth, therefore contaminating a cold room.
Mold Remediation and Confirmation
Remove all cardboard and porous materials
Use a biological disinfectant (bleach) to clean all surfaces
Run HEPA filtered vacuum to capture airborne spores
Spore trap analysis
Surface wipe samples
Biological Safety Cabinets
Contamination in biosafety cabinets (BSCs) can occur when internal parts and HEPA filters become loaded with debris and basic cleaning does not remove this build up. This, in turn, leads to contaminated media and efforts need to be put in place to decontaminate the BSC.
When is BSC Decontamination Needed?
After large spills of chemicals or biological materials
Prior to any maintenance work, filter changes, and performance tests that require access to any contaminated portion of the BSC
Decommissioning, disposal, or salvage
If a new work program or production run is initiated
Relocation from one room/building to another
BSC Decontamination
BSCs are decontaminated per the National Sanitation Foundation (NSF)/American National Standards Institute (ANSI) 49 Standard for Biological Safety Cabinet Decontamination
Removing panels and removal of bulk materials and debris
BSC is sealed and a Mini Chlorine Dioxide System (MCS) is utilized to disinfect the cabinets
Mini Chlorine Dioxide System
Utilizes chlorine dioxide (CD) gas for biological decontamination per NSF/ANSI 49 – 2016
Fast and safe device for decontamination of BSCs
Built in charcoal gas-scrubbing unit allows technician to remove CD without external venting
Routine Maintenance
Prevent future incubator, cold room, and biosafety cabinet contamination by being proactive. To do so, set up a routine that includes a bi-annual full decontamination, full biological cleaning between operational changes, and full decontamination if contamination is identified.