Is Chemical Inventory Management Your Safety Weak Spot?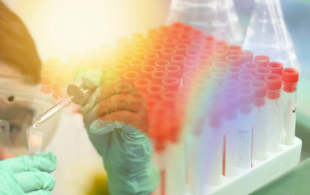 Have you wondered lately if your chemical management system is adequate to protect your employees and the public? Do you have standard operating procedures (SOPs) in place, in case of an event? Can you pass an internal or regulatory audit?
In our experience, even managers who feel their inventory is safely stored, labeled, and protected may be surprised when, after a review, they come up lacking. If your chemical inventory program doesn't cover all your unique lab operations, you might be risking employee safety and operations disruption.
Multiple Dangers from Chemicals
From toxicity to flammability, we know there are many dangers that chemicals pose—from their initial intake in the research or industrial facility to their final disposal. All during their lifecycle, potentially lethal chemicals can be swallowed, spilled on the skin, or released accidentally through mishandling.
Then there are regulatory issues. Given the variety of specific and rigid processes and regulations for managing chemicals, inventory management compliance can be a burden. This applies especially for researchers—focused on innovation—who must divert time and resources to tedious inventory management.
Innovate or Manage Chemical Inventory?
We've seen how these management systems especially impact academic researchers and life sciences companies in start-up mode. Staff, investigators, and managers already are swamped overseeing experiments, manufacturing, go-to-market, and the like. For them, properly overseeing and documenting chemical inventory is a cumbersome routine—but one where even a slight error can have terrible consequences.
So explains a professional academic researcher, writing in a C&EN magazine piece, titled "What I learned from my lab accident." She writes: "My colleagues and I often perceive any safety-related matter as subtracting precious time from our research—and forget that being able to assess risks associated with substances and procedures is an integral part of our job."
But, as we know, mislabeling or mishandling hazardous chemicals can endanger your research team, along with other key employees. And simple mistakes lead to violations that can incur fines that run into the millions of dollars. It can also result in negative publicity, investor worry, and delays in approval and market success.
Chemical Drift: Constant Issue
Chemical inventory systems always present challenges. As this blog has noted, there is the ever-present problem of chemical drift—when an inventory system's quantities vary from what is physically in storage and in use. Drift occurs typically when there are gaps in the chemical inventory management process—such as when a containing box is poorly marked, confusing the receiver as to what exactly is inside. This can result in a misrepresentation of a chemical, or it being completely absent from the inventory system.
Human error also drives drift—such as when a receiver doesn't apply the inventory bar codes once the chemical arrives. It also can occur when a scientist uses a chemical taken from one storage cabinet—and then the scientist doesn't replace it—or stores it in an incorrect cabinet—and the substance enters a separate inventory.
Seeking Inventory Management Collaboration
As you look at your operations, you should determine if your chemical inventory program is genuinely effective—or if it suffers from drift or other issues. Relying on paper- or spreadsheet-based systems is risky and error-prone. It's also likely to slow down processes, interfere with productivity, and frustrate your research and development and operational team members.
To avoid these chemical inventory system headaches, fortunately, you have choices. For instance, you can select a first-rate vendor that can deploy professionals to take the full inventory management burden away. The partner can focus solely on chemicals—or also oversee a holistic environmental, health, and safety (EHS) program.
Either way, as you perform due diligence, you must verify that the chemical inventory management vendor meets certain basic criteria. You'll typically want the partner to:
Design a completely safe and effective chemical inventory program—one that meets your specific needs

Offer cloud solutions for accurate chemical recordkeeping and reporting—and that provide traceability for all chemicals, hazardous or otherwise

Train your people to safety best practices
Provide ongoing maintenance of chemical inventory and safety data sheets (SDSs)
Create safety-supporting SOPs in case of incidents, audits, and the like
Find ways to save you time and money and improve your operations
Here at Triumvirate Environmental, we offer all these capabilities—and more. Talk to us today to learn how we can address your chemical inventory management challenges. Click below to learn more about our chemical inventory management services or call us at 866-916-1514 to request a software demo.