OSHA Standards: Top 10 Violations for 2017 Part II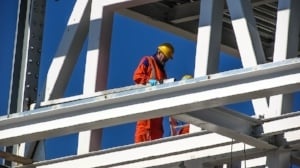 Every year, a list of the top 10 most violated OSHA standards is released. Last week, we offered an analysis of the top five standards on this list. Keep reading to see recommendations for some of the most frequently cited safety and health violations for 2017.
6. Ladders (1926.1053) - 2,241 Violations
Falls from portable ladders (step, straight, combination, and extension) are one of the leading causes of occupational fatalities and injuries, making ladders one of the most frequently violated OSHA standards.
Here are some tips to avoid violations moving forward:
Avoid using a step ladder to access another height. If another level needs to be accessed, use a straight ladder.

When using a step ladder, never let your knees go above the top of the step ladder.

When using a straight ladder, have a four to one ratio - up four feet, out one foot from the wall.

If using a ladder to access a roof, have the ladder at least three feet above the roof edge.
In late 2016, OSHA published an update to its walking-working surface rules for general industry (29 CFR 1910.23). As part of the update, OSHA combined its previously separate regulations for portable wood ladders, portable metal ladders, and fixed ladders under one, comprehensive ladder standard.
7. Powered Industrial Trucks (1910.178) - 2,162 Violations
OSHA defines a powered industrial truck as a mobile, power-propelled truck used to carry, push, pull, lift, stack, or tier materials. If you are going to be operating a powered industrial truck, keep the following things in mind to comply with standards by OSHA:
The employer needs to have a training program based on the general principles of safe truck operation, the types of vehicles being used, and the hazards they create.
Trained operators must know how to do the job properly and safely, as demonstrated by workplace evaluations.
Employers need to give workers a formal training in a classroom-type setting, as well as a practical (demonstration and practical exercises) training.
Employers must certify that each operator has received the training and evaluate each operator's performance at least once every three years.
8. Machine Guarding (1910.212) - 1,933 Violations
Amputations are among the most severe and disabling workplace injuries that often result in permanent disability. They are widespread and involve various activities and equipment. For guidance with machine guarding, look at the ANSI B11. The ANSI B11 series of American National Standards and Technical Reports consists of nearly three dozen different documents that deal with machine/machinery/machine tool safety, and they specify requirements for both the manufacturers (suppliers) and users of the machines.
9. Fall Protection - Training Requirements (1926.503) - 1,523 Violations
Usually if someone falls and is seriously injured, OSHA will come in. Make sure employees are trained properly if they're using fall protection. Some rules of thumb:
Make sure employees know how to use a harness properly.
Make sure employees know how to attach their tether.
If people are entering a confined space, make sure they understand how to assemble and operate the tripod.
Performance-based, use methods are most effective.
Classroom, audio-visual, demonstrations, field training, web-based, computer-based, and other forms of training are recommended.
Training must be performed by a qualified person and if web, video, or computer-based methods are used, a qualified person must be available to answer questions.
10. Electrical - Wiring Methods (1910.305) - 1,405 Violations
It is extremely common to see OSHA come in for electrical wiring method violations. The reference for understanding these wiring methods is the NFPA 70: National Electrical Code (NEC). You should also be familiar with the NFPA 70E, which is the arc flash portion of the electrical code. Make sure that all employees who are exposed to live voltages who may access a power panel are aware of the arc flash and PPE requirements.
We hope this article was helpful in creating an understanding of the most violated OSHA standards in 2017, and some tips for compliance moving forward. For a more in-depth review of the standards, as well as strategies for improving your OSHA programs for 2018 and beyond, please click the button below to watch our recent webinar.