Preventative, Regulatory, and Event-Based Services for Healthcare Facilities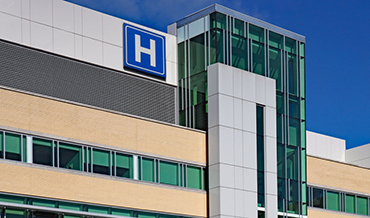 Hospitals of every size require a variety of services to stay compliant, safe, and operational. Whether your healthcare facility is undergoing preventative maintenance, reacting to an unexpected incident, or preparing for regulatory inspections, a move, or construction project, it is important to work with a team that you can trust. Triumvirate Environmental's hospital EHS experts specialize in a variety of facility services and are well-versed in compliance regulations. We make it possible for you to focus on your patients and leave facility services to us. Below are several of our facility maintenance capabilities that are vital to your operations.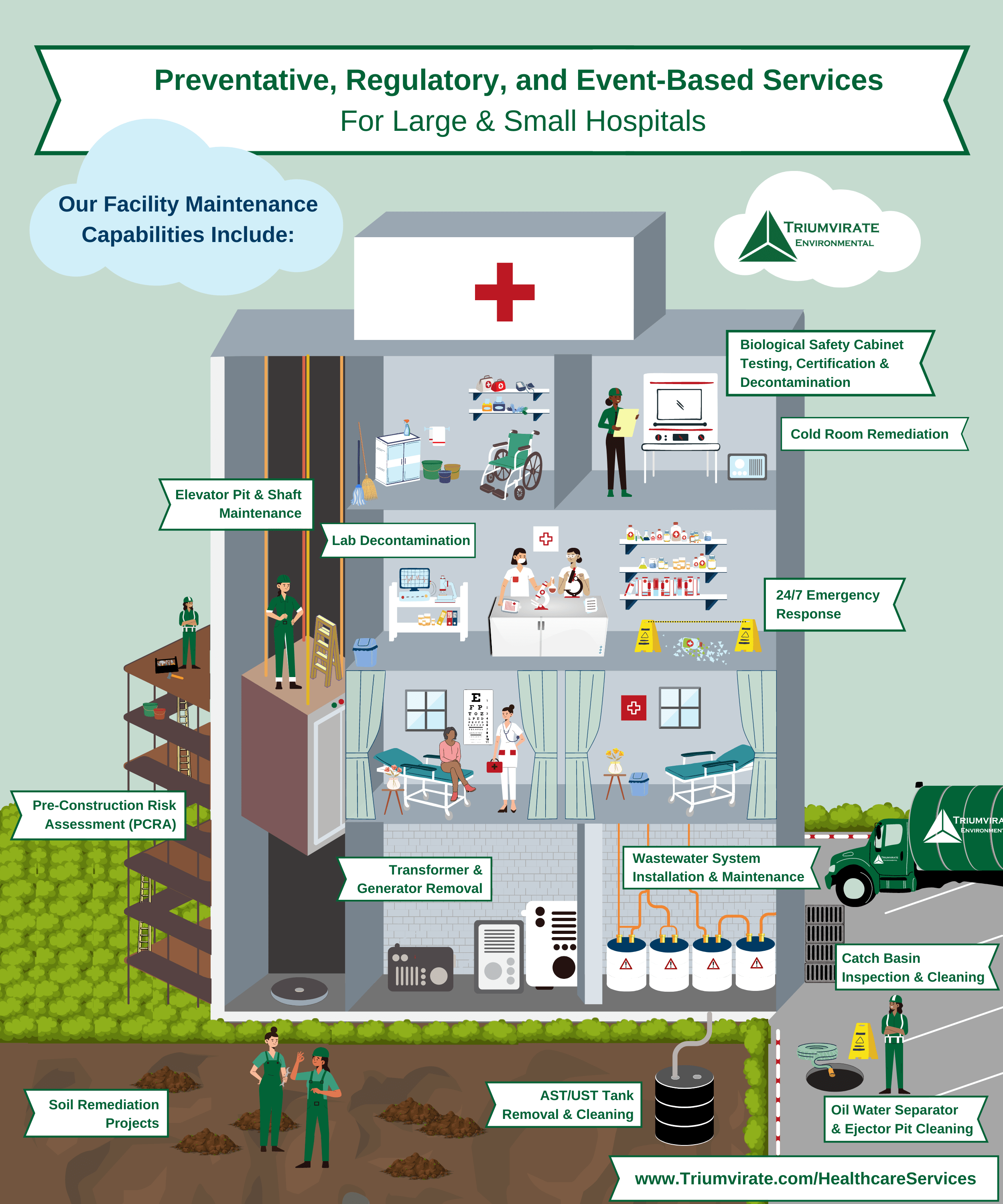 1. Biological and Chemical Decontamination
Decontamination is necessary when vacating or moving labs, in the case of a spill or incident, or as part of routine preventative maintenance. Triumvirate's team of decontamination experts work with precise attention to detail and bring over 30 years of experience with sensitive biological environments such as labs, cold rooms, fume hoods, and pharmaceutical areas. Decontamination services include hazardous material removal, sampling, and disposal. You can trust that we will get it right the first time, effectively reducing downtime and maintaining the integrity of lab specimens while keeping your lab space and hospital safe, compliant, and healthy.
2. Biological Safety Cabinet Testing, Certification, and Decontamination
Biological safety cabinets (BSCs) are essential to many healthcare researchers' work. Proactively preventing contamination is critical to protect the integrity of experiments. To ensure proper environmental, personnel, and product protection, Triumvirate offers comprehensive NSF/ANSI 49 standard biological cabinet testing and certification for all cabinet types. Additionally, our EHS team can customize a maintenance routine for your hospital that includes BSC filter repairs and replacements, decontamination of surfaces on a weekly or monthly basis, and full decontamination bi-annually, between operational changes, and/or for relocation. If contamination occurs, our experts have developed an effective and time-saving decontamination approach using chlorine dioxide, a validated and approved solution by NSF/ANSI Standard 49 that minimizes hazardous waste, condensation, and debris. Triumvirate will get to the root of the problem and implement procedures to minimize future risk of contamination.
3. Pre-Construction Risk Assessment (PCRA)
As a healthcare provider, patient care and safety are your main priorities, even while planning construction, renovation, and demolition projects. No matter the scope of your undertaking, construction activities can impact air quality, infection control, and noise levels, among other issues. Our team of EHS consultants can help analyze potential concerns through a comprehensive pre-construction risk assessment. Following the assessment, we will implement a program, customized to your site and project specifications, to ensure patient safety, compliance with Joint Commission standards, and efficient construction procedures. Throughout construction, we will track on-site data making it accessible and ready for executive reports.
4. Wastewater System Installation & Maintenance
Wastewater systems typically have many components which make them easily susceptible to management violations and maintenance issues, including pH levels, broken sensors, and control system problems. Triumvirate Environmental knows how vital it is to keep your healthcare operation up and running, which is why it is important to partner with a team who not only understands what each component of your wastewater system does, but also what to do if it breaks. Triumvirate ensures your hospital's wastewater system is compliant from planning and permitting to operations and maintenance.
5. Catch Basin, Oil Water Separator, & Ejector Pit Inspection & Cleaning
Oil/water separators, catch basins, and ejector pits are typically found on sites with parking garages or large parking lots, like most hospitals and healthcare facilities. Cleaning and draining these systems can be challenging in terms of waste transportation and disposal but is vital in reducing risk of overflow, particularly in the summer. Additionally, separators, catch basins, and ejector pits are often checked by DEP or Sewer Authority inspectors annually. Our vacuum truck services team consists of equipment operators well-versed in regulatory requirements and experts in manifesting, placarding, and facility paperwork. Our team will handle your project from start-to-finish, minimizing downtime and eliminating stress.
6. AST/UST Tank Removal & Cleaning
Aboveground storage tanks (ASTs) and underground storage tanks (USTs) are commonly found during construction, especially at older institutions like many hospitals. Storage tanks require periodic cleaning, updates, and/or replacement to stay compliant with federal, state, and local regulations. If your facility is switching fuel sources, the storage tanks may need to be removed altogether. Whether you require one-time project support or ongoing testing, cleaning, and maintenance, Triumvirate Environmental's tank experts can help keep your healthcare facility's tanks operational, safe, and compliant.
7. Soil Remediation Projects
Soil projects, such as testing, sampling, analysis, and remediation services, are usually associated with construction projects, property acquisitions, spills, or contamination from historic releases and urban fill. Soil contamination can also derive from runoff from older buildings containing lead or PCB that may be in window sealants, roofing materials, or brick and mortar caulking. Triumvirate works with hospitals to make soil removal, disposal, and remediation projects easier while keeping federal, state, and municipal regulations at the forefront.
8. 24/7 Emergency Response
Hospitals are well-equipped to manage emergencies and are constantly prepared to help patients in a moment's notice, but unpredictable hazardous waste and spill emergencies can put patients and staff at risk, disrupt business process, and damage costly resources. Triumvirate Environmental's emergency response teams are on call 24/7 to arrive fast, limit injuries, and minimize damage in case of emergencies such as chemical spills, natural disasters, hazardous and non-hazardous waste and materials, and even mock emergency response drills, among many others.
With decades of healthcare industry experience, Triumvirate's team of EHS specialists are prepared to help you ensure your hospital or healthcare facility is operational, safe, and compliant. We are committed to excellent customer service for your healthcare facility. Click below to to learn more about these capabilities as well as additional preventative services, including elevator maintenance and transformer removal, or call us at 617-715-9055 to discuss your healthcare facility's needs.