3 Features of a Sustainable & Resilient EHS Program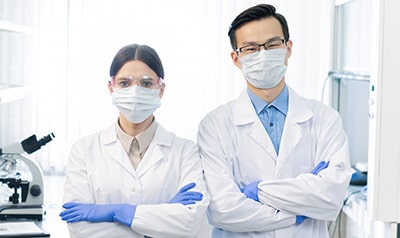 A successful EHS program is vital in keeping your operations safe, compliant, and running smoothly. Whether your field is life sciences, healthcare, manufacturing, or higher education, your organization's specific needs and circumstances are likely to change over time due to unexpected challenges, company growth, or the introduction of new goals, among other factors. No matter the reason for the change, it is important that your EHS program adapts and grows with you. However, for many of you, EHS programs often include multiple contracts and have various limitations that can result in compliance gaps and disruption of business. To avoid this, your organization should strive for an EHS program that is reliable and effective in the long run. Below are three essential features of a sustainable and resilient EHS program.
1. Proactive EHS Support
As much as your organization can strive to be prepared, incidents are not always avoidable. From unexpected employee exposures to hazardous waste cleanups, it is important to have an EHS program that is not only prepared to react to unforeseen problems but can also proactively minimize the risk of issues arising in the future. To do so, you need a program that can anticipate your organization's unique needs, whether your operation is large and complex or a start-up. An effective EHS management program, like Triumvirate's unique EHSOneTM program, can provide proactive support by planning routine inspections of your facility and equipment as well as check ins with your organization's compliance programs.
One way to prepare for your next inspection is by conducting an EHS audit or gap analysis to help you avoid fines, violations, or penalties from federal, state, county, and local agencies. Additionally, a continuous training schedule should be implemented to ensure all personnel are up to date with trainings and that your organization continues to meet regulatory compliance requirements. A comprehensive training program tailored to your specific organization can help ease frustrations like keeping track of which trainings are required and when, developing and delivering engaging content, and finding an effective system that meets your unique needs.
A sustainable EHS program understands the challenges your operation might face and can support you when you need it most while ensuring your operations run smoothly and compliantly in the future.
2. Consistent Communication
EHS operations large and small have many moving parts and ongoing projects which can make it difficult to stay up to date on site-specific plans, organizing training schedules for multiple employees, and managing crucial systems, such as chemical inventory management. A strong EHS program evolves around productive communication between key stakeholders, from consultants to regulated waste management experts, and ensures everyone is on the same page regarding goals, Key Performance Indicators (KPIs), and program requirements. Outsourcing your EHS operations to a single dedicated provider can prevent oversight within your operation due to miscommunication between multiple vendors.
As an EHSOneTM member, your dedicated professional services team will develop a detailed Compliance Calendar for your organization to ensure full transparency and timely management of permits, plans, and regulatory reporting submissions. Additionally, your EHSOneTM team of industry-specific experts is embedded at your site to help understand, and anticipate, any challenges.
3. Flexibility
Following the unprecedented circumstances of the last year, Triumvirate Environmental understands more than ever how important it is that an organization's programs are able to adapt to change. As people return to work and EHS projects continue to ramp up, safety is the top priority. You need an EHS management program that is sustainable and effective, no matter what. This can be hard to achieve when juggling multiple vendors with separate contracts as well as working towards your organization's core goals. A resilient EHS management program should be customizable—when new initiatives or change in current processes emerge, your company grows, or your organization's circumstances change, your EHS program should adjust accordingly without slowing down your operations.
If you are looking to streamline your EHS program, our EHSOneTM program is the answer. With a Triumvirate team of dedicated professionals embedded at your site to manage all aspects of your EHS operations, we will tailor an EHS program that perfectly fits your company's specific needs. Your team can increase as needed if your company expands and will be customized with the appropriate subject matter experts based on your projects. Most importantly, you can rest assured knowing that your EHS management program is sustainable, safe, and compliant, no matter what, so you can focus on what matters most to your organization. Click the button below to learn more about how EHSOneTM would fit within your company or call us at 617-715-9055 for more information.