Overhauling Your Chemical Inventory Program? Here's How to Start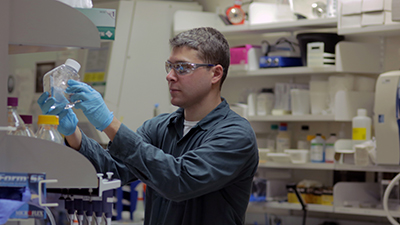 Although there are distinct chemical inventory challenges among organizations within different industries, any institution that has chemicals onsite will benefit from an effective chemical inventory program. Even if you only have a few chemicals at your facility, tracking them will be valuable for multiple sectors of your operation including your EHS, research, purchasing, and manufacturing departments. Developing a chemical inventory, selecting a software to host it, and implementing the program requires a deep understanding of your organization's needs. Where should you start? Whether you are developing a chemical inventory from scratch or working to improve your existing system, there are preparatory measures you can take that will help facilitate a successful and sustainable chemical inventory program.
Determine Specific Goals & Objectives
Is your main goal in overhauling your chemical inventory system to meet regulatory requirements? Every company has a slightly different mix of regulations that they need to comply with, and having an effective chemical inventory makes it much easier. Some regulations will be required by all companies that have chemicals, like the Hazard Communication Standard (HCS) which requires companies to disclose any hazardous chemicals on site to all staff. Depending on the location of your operation and nature of your work, you might also be required to meet requirements for local authorities or other regulatory bodies, such as:
If your goal is to meet regulatory compliance requirements, you should determine exactly what regulations you need to comply with and then develop specific objectives based on these regulations.
An effective chemical inventory program is not only useful in ensuring your organization is compliant—it can also help drive efficiency. If one of your objectives is cost-savings, plan to loop in key stakeholders to determine what information from a chemical inventory program would help reduce over-ordering or improve management of expiration dates. Useful information might include tracking how much of a certain chemical your organization currently has and knowing where it is stored so you can better coordinate when to buy more. Once you determine what specific information you need from your chemical inventory program, it will be easier to develop a productive system.
Define Your Project Scope
After you have developed your chemical inventory program objectives, it is important to look at the scope of your project to determine how to best achieve those goals. Are you working within a centralized organizational structure, such as a manufacturing facility, or is it decentralized, such as a large research institution with multiple independent stakeholders? This can help you determine chemical inventory program users, roles, and responsibilities and ensure that those key stakeholders are included in communication regarding the project. How many chemical bottles and types of chemicals does your facility currently have or have at any given time? Which chemicals do you want to track? Do you have multiple locations in which those chemicals are stored? Quantifying the answers to these questions, among others, can help you determine how much detail and information you need to include in your chemical inventory based on your specific program objectives. The more detail you include, the more complicated and costly maintaining your chemical inventory can become, which is why it is important to make these distinctions early in the process and set expectations within your organization. We recommend that you re-evaluate your scope every 12 months to continuously improve your program and ensure it is still meeting your organization's needs.
Triumvirate Environmental has decades of experience developing chemical inventory solutions, from program design to operationalizing your program within your organization. To learn more about how to set chemical inventory program goals for life sciences, higher education, healthcare, and industrial institutions and how to overcome the tactical challenges of a successful chemical inventory program, click the button below to watch a recording of our most recent webinar, How to Build and Maintain a Reliable Chemical Inventory Program. To discuss your chemical inventory management needs, call us at 617-715-9055.