Cut Risks for Chemical Management Noncompliance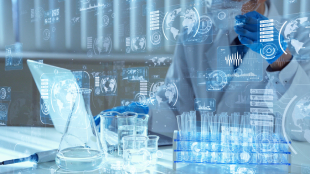 As an operations manager at a biopharma or manufacturing company or a lab, you know the risk of chemical management noncompliance—and how it can jeopardize your people, operations, and the public at large.
But for some managers, just keeping up with the federal Environmental Protection Agency (EPA) and the Occupational Safety and Health Administration (OSHA) and their guideline updates can seem like a full-time job. So complex are these changes, and they occur so quickly, some critics claim the EPA is causing a snag in United States innovation. And besides federal regulations, organizations must also comply with state, city, and internal rules and guidelines, as well.
Chemicals are the lifeblood of many industries, and their safe management is a necessary but costly routine burden for innovation and to get to market. However, instead of letting the compliance burden overwhelm you and your team, you can secure professional environmental, health, and safety (EHS) partner assistance. This can make your chemical safety and operational excellence a competitive distinction.
Keeping Up With the Rules
Complete compliance around chemical inventory management in life sciences, academia, and industry is always a moving target. For instance, last month, the EPA issued amendments to worker safety verbiage in the Significant New Use Rules (SNURs) under the Toxic Substances Control Act (TSCA) around chemical exposure.
Additionally, it will soon publish spill response plan rules for organizations with above-ground chemical tanks. And for the first time since 2008, the agency will offer new guidelines for aerosol coatings emissions standards. These are just a few examples.
And besides these recent updates, there are other existing chemicals-related requirements—such as the EPA's Tier II reporting guidelines. Have you created an OSHA Hazard Communication Plan? This involves labeling procedures and creating safety data sheets (SDSs) and other warnings to conform with OSHA Hazard Communications (HazCom) requirements.
Risking Chemical Noncompliance?
An event—such as a chemical spill or flunking an audit—can damage your reputation, slow down your pipelines (especially if you're a life sciences organization), and cause fines and other damage. Are you currently at risk?
If you're unsure, here are some questions to ask:
Do you know what sort of chemical inventory management system is in place now in your organization?

When was the last time you updated your standard operations procedures (SOPs) around chemical inventory management?

Do your employees know what sorts of chemicals are in your facility?

Are all the appropriate people trained in handling dangerous chemicals—or how to react in case there is an event?

Have you performed an audit of your chemical inventory recently? If so, was there any sort of chemical "drift"—or discrepancies between the actual inventory and your records?

Have you added new product lines or procedures or expanded existing ones? (If so, this likely has affected your chemical stockpiles.)

Do you have any sort of electronic chemical inventory system in place to assist in documentation and reporting, as well as record keeping?
If you answered "no" to any of the questions, it may be time to revisit your chemical inventory management policies. It's best to be sure there are no gaps in them.
Partnering for Efficient Chemical Inventory Management
On the other hand, there are ways to avoid playing compliance and sustainability catchup. Whether you are in a startup life sciences company, a mature process-based manufacturer—or whatever sort of organization you manage—you can have regulatory compliance without killing efficiency and innovation.
You can do this by partnering with a proven EHS vendor that stays abreast of all the regulations. Capable partners can perform such tasks as providing ongoing maintenance of chemical inventory (receiving the chemicals and adding barcodes) and SDSs. Their services range from on-site daily visits, all the way to performing annual reconciliations, to finding ways to save you money by more efficient procurement methods.
However, when it comes to selection, we suggest you consider only a reputable vendor that offers:
A clear understanding of EPA, OSHA, and other chemical-related regulatory compliance

Proof that its team has worked successfully in your industry, with companies similar to yours

The ability to come on-site and assess your processes and create an accurate operational snapshot—and then pinpoint your unique chemical management needs

Skills to design your chemical inventory program—the team must assess your specific needs, current processes, existing workflows, and regulatory compliance to develop a comprehensive chemical inventory plan

Cloud solutions that ensure

data accuracy to fulfill reporting requirements—and to support streamlined, continuous operations and performance improvement programs

Key operational data services: the team will be capable of loading your data and SDSs into the chemical management software—and will reconcile/add barcodes, provide SDSs, and check for data accuracy

A proven way to create a broad-based plan not to just keep you safe and compliant, but to make your operations more efficient and data-driven—and thus save you time and money
Triumvirate Environmental can provide the expertise needed to develop your chemical inventory management program and keep it running smoothly. Click below to learn more about our chemical inventory management services or call us at 617-715-9055 to request a software demo.