COVID-19 Testing Facilities: Triumvirate Environmental Is Pivoting for Customers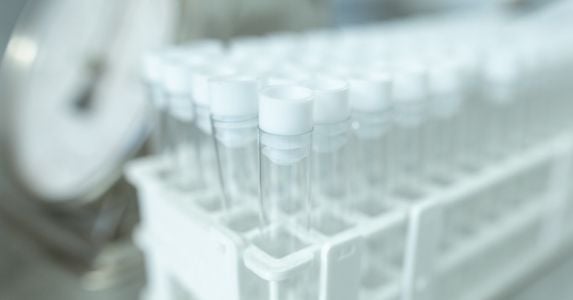 As the race to produce a vaccine for the coronavirus continues, a key focus has been on large-scale rapid testing in order to effectively maintain and track public health. Given the transmission speed of the virus, it is critical that test results are available as soon as possible.
Many companies have responded to this once-in-a-lifetime call to arms by pivoting from their planned research to providing accurate and high-speed COVID-19 testing.
Triumvirate Environmental Inc. (TEI) has played a key role in this, offering full COVID-19 testing setup and execution support. Nearly nine months in, TEI has been able to build a reputable track record for its efficient and effective setup of specialized COVID-19 clinical testing facilities. While setting up a clinical testing laboratory — capable of processing tens of thousands of human samples a day — has significant logistical hurdles normally, the high demand for rapid results and the COVID-19 safety measures add an entirely new set of challenges.
TEI's Best-in-Class COVID-19 Services Address the Following:
Process design for:

Specimen acceptance

Analysis

Decontamination

Chemical assay management

Waste collection, decontamination confirmation, and minimization of multiple waste streams

Lab set-up to optimize the process within the selected space:

Specimen handling

Chemical handling

Personnel safety

Required permits: Local, State, and Federal

Policies, plans and procedures for lab operations

Personnel training

Ongoing support to:

Fulfill ongoing regulatory reporting

Remove hazardous and biological wastes

Coordinate with other labs and collection sites

Order consumables, such as chemicals, PPE, and analysis
Providing EHS support to our community has been paramount during this pandemic and we do not plan on slowing down anytime soon. TEI has partnered with several specialized COVID-19 clinical testing facilities to start the set-up and operation within weeks, not months, for these lifesaving operations.
Case Study: How TEI Continues to Deliver During the COVID-19 Pandemic
Laboratories are great examples of companies that have pivoted during the pandemic from their core mission on research and development to becoming entirely new entities. TEI's high-level biosafety experience garnered from the Life Sciences and Pharmaceutical industry, combined with our experience servicing the EHS needs of the clinical laboratories of some of the nation's largest hospitals, places the firm in a unique position to set laboratories up for success.
Process:

Being involved with early planning stages is crucial. It has allowed TEI to understand the necessary setup for lab operations and to ensure that health and safety measures are prioritized. Storage rooms, hazmat storage limits, fire-ratings of walls and doors, flammable cabinet locations, receiving areas, and waste staging areas are all important items to consider when operational details are in its planning stages. With a potential 24/7 operation, continual activities such as biological sample handling, hazardous material dispensing, chemical transport, and waste container removal can all become major areas of risk.

Permits, Plans, and Procedures:

TEI leverages relationships with local regulatory agencies to ensure a smooth lab setup for our clients. These partnerships allow TEI to expedite any inspections or permits that may be required.

As work begins, all laboratory tasks are reviewed and risk-assessed. Within our multidisciplinary group of staff, we develop site-specific policies, procedures, management plans, and COVID-19 precautions in order to meet the standards of EHS, EPA, and OSHA programs applicable to lab operations.

Hazardous Waste Management:

Because of our deep expertise in hazardous waste management, TEI can identify classes of waste, the most appropriate type of containers, and the most efficient ways to collect waste. In parallel, we develop disinfection and solidification protocols, secure agreements with end disposal facilities, and handle all necessary preparations for the logistics and offsite transportation.

Go-Live and Ongoing Operating Support:

Beyond the top-down planning and management, TEI provides a boots-on-the-ground approach to turn an empty laboratory facility into a robust, fully-functioning operation in record time. TEI provides and installs necessary signage that is common in laboratories, the marking and labeling of equipment and storage locations, transportation and delivery of stock chemicals, and even specialty equipment purchases and installation. With the large influx of new employees, TEI develops and delivers training on required topics such as waste management and site-specific emergency action to ensure a safe operation.
After a successful initial setup, TEI will continue to manage all EHS needs as they arise. In addition to the management of existing EHS programs and incident investigations, onsite TEI professionals also manage chemical inventories, waste compliance, regulatory documentation and recordkeeping, PPE storage, stock chemical volumes, and container counts as part of routine services. Additionally, we conduct periodic compliance walkthroughs to identify high-risk findings and behavioral trends, provide electronic metrics, and report as part of routine services.
With our best-in-class ability to provide the full range of EHS services — from high-level operational strategy, to regulatory compliance, to downstream waste management, and offsite disposal — TEI is uniquely suited to provide customized services that are guaranteed to WOW!
Triumvirate Environmental's experts are skilled with laboratory analysis and can assist your organization in reducing the spread of SARS-CoV-2 and COVID-19. To learn more about all of the COVID-19 support services TEI offers, please visit our Coronavirus (COVID-19) Decontamination & EHS Support Services page. To contact a member of our team, please dial (888)-834-9697 or click below.