The Latest on Reopening Your Lab: 6 Key Steps You Won't Want to Skip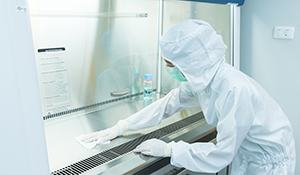 As most states are in some phase of reopening, every business must put together a plan to prepare their facility to bring people back to the workplace. Each state has different requirements businesses must follow to reopen, and each type of business faces unique challenges they need to address. Research labs – including those in higher education and healthcare settings – are no exception. Here are the six most effective steps we are seeing research labs across all industries take to open and operate safely.
1. Evaluate Building Systems
Facility managers are encountering various challenges, such as ensuring adequate air circulation, resolving performance issues with wastewater systems, and maintaining safe water quality, in getting their once-dormant buildings ready for the new normal. Maintaining good air circulation and sufficient ventilation is a key strategy in mitigating SARS-CoV-2 transmission in a facility. ASHRAE (the American Society of Heating, Refrigerating and Air-Conditioning Engineers) and the CDC have provided guidance on appropriate air circulation rates for operating during the COVID-19 pandemic. As you prepare to reopen, make sure your building's HVAC and air circulation systems meet the minimum requirements to operate safely, replace or upgrade filters, and try to increase air exchanges where you can.
2. Inspect and Maintain Safety Equipment
We are all hyper-focused on reducing SARS-CoV-2 transmission in the workplace, and rightfully so as we are in the middle of the worst pandemic of our lifetime. However, especially in a research lab where there are many other occupational hazards, we must not overlook the need to make sure other safety equipment is operating correctly. Because many labs have been shut down or idle for several months, it is important to inspect all of the life safety and other safety equipment to ensure it is working properly. This includes, for example, eye wash and safety showers, chemical fume hoods, biosafety cabinets, fire extinguishers, enclosures, first aid supply kits, and emergency lighting. In addition to inspecting safety equipment, check that emergency egress routes are unobstructed and operational.
3. Clean Labs Prior to Staff Returning
Maintaining a clean work environment is a vital pillar in maintaining a healthy work environment and reducing the risk of virus transmission at your lab. Though a prudent chemical hygiene practice would result in lab surfaces being cleared, chemicals stored in appropriate cabinets, and clutter removed regularly, I think all of us who spend time in research labs can agree there is always room for improvement here. Best practices prior to reopening include:
Remove all unnecessary items from horizontal surfaces.
Put chemicals and equipment in designated areas.
Remove any unneeded or expired chemicals.
Additionally, make use of lab cleaning or decontamination prior to beginning research. Doing this at the outset allows for a more effective routine cleaning and disinfection regimen once your lab resumes operations, and will make decontamination of the workspace following a suspected or confirmed COVID-19 case much easier and faster.
4. Develop a Cleaning and Sanitization Plan
The CDC recommends that businesses develop cleaning and disinfection plans for their facilities, and many states require written plans prior to reopening. Laboratories pose a unique challenge because of the additional occupational hazards, such as chemicals, biological agents, and radioactive materials, present in the space. It's often unsafe or inappropriate to have traditional janitorial staff clean these areas. Many companies have hazardous material professionals perform additional decontaminations or instruct their research staff to perform daily decontamination of their workspace, or some combination of both. Either way, routine lab cleaning and disinfection of all work environments is a critical control measure in reducing the risk of SARS-CoV-2 transmission in the workplace.
5. Implement Social Distancing Guidelines
Social distancing remains one of the most important tactics in reducing the risk of transmission in the workplace. Because most lab work cannot be conducted at home, researchers will return to labs and when they do, you should provide guidance on how to do that safely. Look at research processes in relation to physical space. Many labs have had to rearrange equipment to ensure social distancing while their researchers, staff, or students are working in them. Depending on the maximum allowable density in the lab, you may also have to implement shifts.
6. Clearly Communicate New Policies
At this point, many businesses have created a return-to-work plan to comply with state and local requirements and federal guidance. How labs comply with ordinances or achieve social distancing will vary from one lab to another. It is vital that organizations clearly communicate new policies and procedures intended to keep the workplace safe from virus transmission and infection. Organizations are sharing information and policies via email, learning management systems, webpages, and webinars, for example.
For more information on return-to-work considerations, developing Pandemic Recovery Plans, COVID-19 Response Services, or Laboratory Decontamination, please contact Triumvirate Environmental today. To reach a COVID-19 Expert by phone, please call 888-834-9697.