The Periodic Table of EH&S: 4 Steps to Success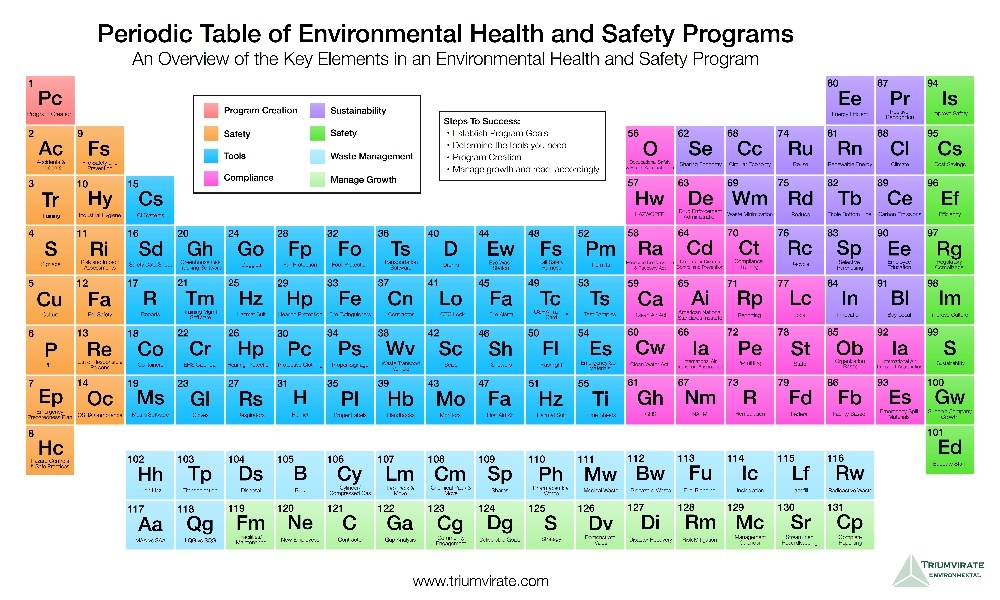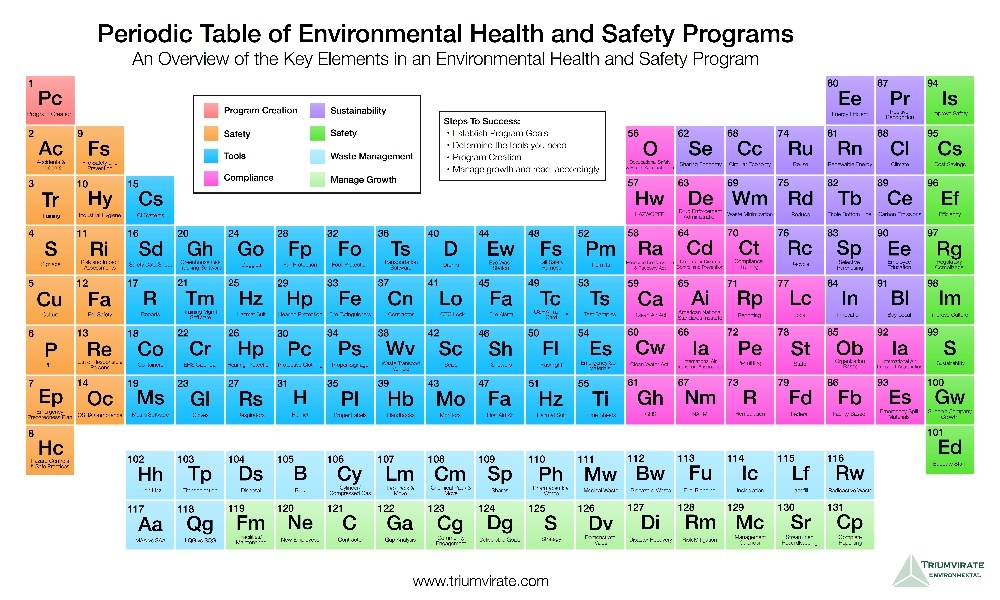 There isn't a playbook for creating a best in class EH&S program. Managing all the facets and organizing them into steps is a difficult endeavor.
As a way of organizing the many elements that make up EH&S success we created this periodic table. We broke these elements into 8 major categories of EH&S success (sustainability, safety, compliance, etc.) to help keep things organized.

This is by no means a complete list of everything EH&S, but we did include many of the things we saw as most important. Below, find four of the categories broken out into steps to achieve a successful EH&S program.
1.) Establish Program Goals
When doing this, consider not only what's most important and impactful for your organization but also what your team has the bandwidth to achieve. Do you need a serious safety and compliance overhaul? Or is your organization ready for a new sustainability program? Is cost savings and improved efficiency an important goal? By establishing realistic goals the entire company can get behind, you're setting an achievable course for the rest of your program creation.
2.) Determine the Tools You Need
This will help you determine the potential cost of a new program and better assess the existing state of your program. Consider big purchases like new EH&S program software or chemical inventory software along with smaller stuff like replacing worn out PPE and getting signs to enhance the organization's safety experience.
3.) Program Creation
Developing a written program or plan is often times the most difficult step in implementing a top-notch EH&S program. The program should address all goals established above as well as compliance and safety regulations. It should clearly document plans for employee training and safety.

Documentation should be accessible to other employees and reviewed by multiple people in your department. For help creating a plan or more info on how to, look here.
4.) Manage Growth and React According
Many people make the mistake of seeing the completion of the written program as the end of the project. Really, it's only the beginning. Part of your plan should involve continued training and developing KPIs that will help you determine if your new program is working.

Plan check-ins every few months to reassess your programs and change directions if necessary.
For more information on the many facets of an EH&S program check out our Periodic Table of EH&S in the link below.
This is by no means a complete list of everything EH&S, but we did include many of the things we saw as most important. Click on the preview image above for a full-size clickable version. Print it out and hang it in your workspace!