Overview
Red2Green, Triumvirate Environmental's innovative service offering, allows your organization to recycle its regulated medical waste, meet its sustainability goals, and save on disposal costs. This webinar describes our new regulated medical waste service and takes a deeper look into the process as well as specific case studies.
View this webinar to learn:
The technical and scientific reasoning behind the sterilization and production process

Details on our regulatory permits and sustainability

calculations
For a brief overview of this service, watch the video here!
Speaker Profile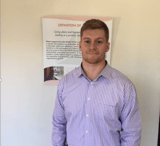 Josh Chronopoulos is a Business Development Manager in Triumvirate Environmental's North Carolina office where he partners with organizations in the Life Science, Industrial, Higher Education and Healthcare markets to help manage their environmental liability. He has been with Triumvirate for 4 years and continues to provide innovative solutions for his clients. Josh has a B.A. from Bates College.